Tonya and her husband Kym could read the dates, but had to put the text through Google Translate, coming to the conclusion that it must've been tossed from a German ship in the 19th century.
Inside the gin bottle was a note written in German and dated 12 June, 1886.
Mr Illman's German was not quite good enough to deduce much more of the text, other than the letters "aula" in a naming field, which he guessed might mean the ship was called Paula.
Mrs Illman said she picked it up thinking it "might look nice on display" in her home before realising what she had come across.
The bottle's origin was traced to Germany where a series of experiments spanning 69 years saw thousands of bottles flung into the ocean to better understand currents and uncover more efficient shipping routes.
Ross Anderson, the assistant curator of maritime archaeology, investigated the intriguing find.
'We took it home and dried it out, and when we opened it we saw it was a printed form, in German, with very faint German handwriting on it'.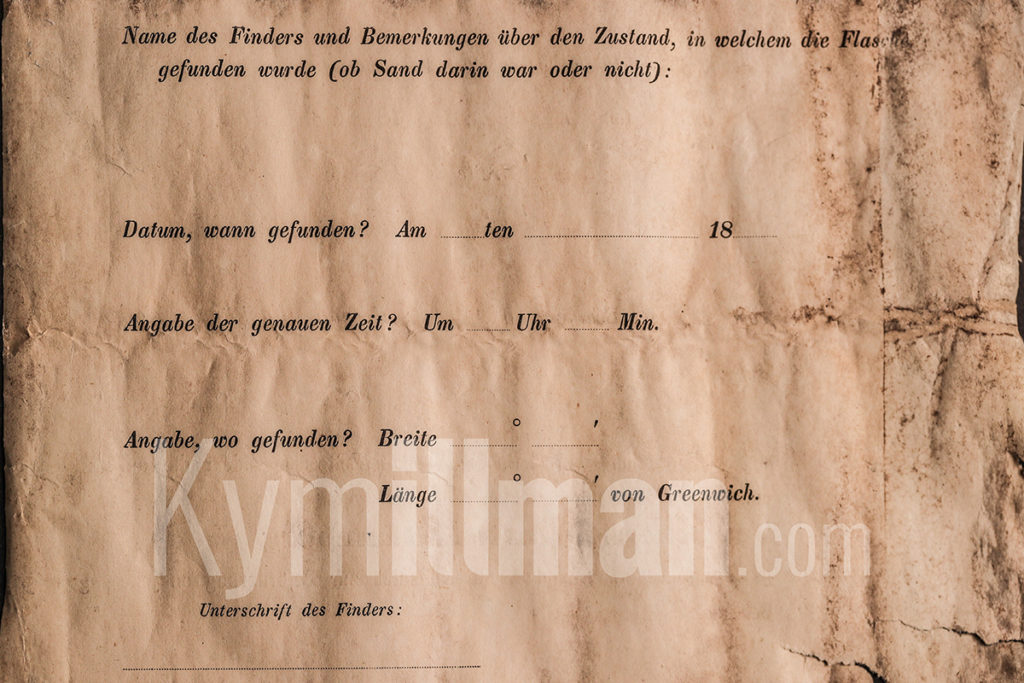 The Message in the bottle found by the Illmans Kym
By comparing handwriting samples from the meteorological journal entries made by the ship's captain and the note, experts were able to confirm the relic's authenticity. Curiously, the Illmans claim that they found this bottle without a cap, so it's astonishing that the note inside survived.
That would make this the oldest message in a bottle at 132 years old; the previous oldest one, per Guinness, was 108 years old.
Some 662 of the messages were returned to Hamburg (about 10 percent) but none of the actual bottles were ever returned.
Reports say thousands of bottles had been thrown overboard from ships during that time in order to indicate the currents of the ocean.
The bottle found on Wedge Island was found "mostly exposed without any form of cork or closure, and was about a quarter full of damp sand", and the bottle appeared to have lain "buried or mostly buried", partially filled with damp sand, Dr Anderson added.
Tonya's husband, Kym Illman, is a photographer and marketing consultant who set up a website about the find.
"To think that this bottle has not been touched for almost 132 years and is in ideal condition, despite the elements, beggars belief".
'The Bachelor' finale played out like a Greek tragedy
In a previously released teaser, Arie admits he's happy he found love but the problem is he found love with two different women. Back in January, Bachelor brainiac Reality Steve reported that the two had reconciled , and we're assuming Arie "loved that".